Apo Whang-od was the reason why we started planning for this trip. Then dubbed as the Last Mambabatok (Traditional Kalinga Tattoo Artist), we knew that enduring the 
15-hour bus plus rough jeepney rides
, riding on the rooftop of an overloaded jeepney, and hiking to Buscalan, would all be worth it – for the honor of meeting this badass woman.
The adventure of getting to Apo Whang-od
The 
only
 jeepney to Tulgao arrived a bit later than we expected. And, because we were the last ones to ride the jeepney – guess what – there was no more space for us to sit inside!
I'm a city girl through and through. And, for someone who's never backpacked before, this was something new to me. Believe me; I wanted to back out. I had started talking myself out of the situation. But, I thought, I've gone this far. Maybe I should just check if I could stretch myself a little bit more? So, I gathered all the guts I could muster and climbed on top of the jeepney.
Half of my body was more bent than the other. But, I was lucky that I had the railings of the jeepney to hold on. On the other hand, my friend only had the crate she sat on as her anchor. So, if we had met an accident, Tara would be bringing her seat along with her!
We rode on an overloaded jeepney. The locals – the masters of this kind of adventure – looked scared, too. Whenever the jeepney would make a turn, I held on to my dear life as it appeared like we would do a flip-over anytime! So yeah, you bet I prayed, and I prayed hard!
Later that night, Tara said that she, too, was praying to her guru. Since she was on the safer side of the jeepney, it appeared to her that her face would scrape off against the mountain's rocks every time the jeepney would make a turn!
So, yes, it was scary. But it was genuinely beautiful as well. I had a good view of the Chico River on my right and the surrounding beautiful mountains. After I had let go of being scared, I allowed myself to be in the moment, enjoy every bit of it, and love the beauty that Kalinga offered. It was such a pity that I did not have the guts to take my camera out. See, I needed both of my hands to take good pictures; and my left hand was busy keeping me from flying off from the jeepney!
For some, the hike to meet Apo Whang-od is a walk in the park. But, to me, it was an UPHILL STRUGGLE. It was my first hike, see. I was unprepared; I did not prepare. Weeks before the trip, Tara told me to get ready because there would be lots of going up the mountain and walking. I just said, "I could walk! I now love walking!" and consciously did not think about the going-up-the-mountain part. In hindsight, If I did, I do not think I would have pushed through with the trip. I would create it as 
too difficult, too big, and something that I could NOT do. 
I would talk myself out of it.
But, as life would teach us, we sometimes need to get out of our comfort zones. Allow ourselves to be vulnerable and brave at the same time – to see what's beyond what we believe to be the only truth; to give ourselves the chance to experience new things; to embrace the opportunity to live, breathe, and break free.
The hike was uphill-downhill-uphill. We would stop every once in a while, drink water, and find shade to rest for a bit.
Yes, there were multiple times when I wanted to give up – scared of getting bruised, running out of air/water. Yes, I had the fear that I would collapse and not make it to the top. Thank God for Manong Francis, who literally pulled me up the mountain, half-way on our second way up! And, to Tara, who taught me the proper way to breathe and where to step on.
Yes, I was scared of falling off a cliff.
At one point, yes, I didn't think that I was going to make it. Yes, I was certain that this kind of adventure was not for me. And, yes, I was so sure I would fail.
But, I took my time and they let me do it. Several times, a local would walk past us and a few minutes after, we'd see them on the other side of the mountain (GOALS!)
Looking back, had I not been brave enough, had I allowed myself to overthink, had I given in to that voice inside my head saying that I was too weak for this, that this is too much for me, that I can't possibly do this – I wouldn't have had this AMAZING experience of which I will never get tired of telling stories over and over again.
So, once in a while, I invite you to challenge your own limits. Because when you conquer those doubts, your what-ifs, your no-I-can'ts — maybe, just maybe, you'll love what's on the other side ♥️
I remember that day vividly. Due to exhaustion from the hike, I had planned to just rest and keep to myself when we finally arrive at her house. But, seeing this then 95-year-old woman get up from lying on her home floor with so much ease, uhm, I felt embarrassed. I felt like I had to push myself and embrace this amazing opportunity. 
So, in what seemed like just a snap, I was ready to go out of my comfort zone once again.
Apo Whang-od: The living legend
I knew I was in the presence of a legend. Apo Whang-od was, at that time, dubbed as The Last Mambabatok (Last Traditional Kalinga Tattooist). As a fan-girl, I would usually get starstruck and tongue-tied when I am about to interact with someone I admire. But, Apo Whang-od exudes both warmth and power, humility and pride. She makes you feel comfortable because of her seemingly innate shyness, despite her stature in their community and in the travel world.
She prepared breakfast and coffee for us. We sat on her kitchen floor. And as we enjoyed our meal, we also asked her questions after questions. We wanted to know her deeper, more than the stories published about her. So, we asked about her childhood, how she got into traditional tattooing, her sense of community and family. We learned how much of an empowered woman she is and had a glimpse of the depth of her love for her tribe.
She was so generous of herself and she answered all of our questions in her native tongue, which we didn't speak. Thank God for our translator.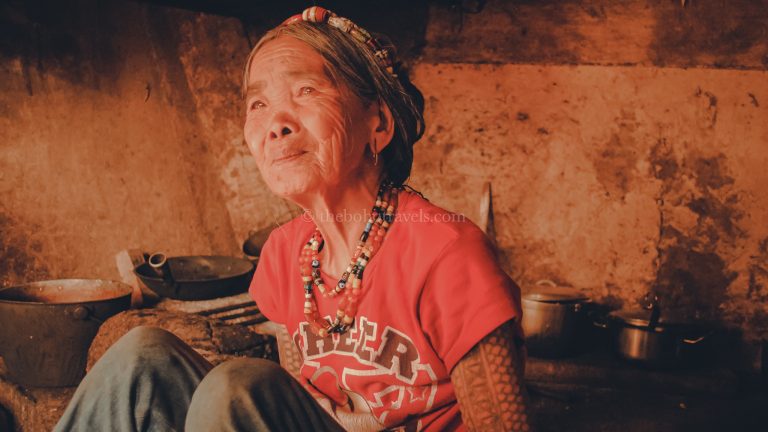 But, what amazed me more was that Apo Whang-od would, from time to time, look and speak directly to me, as if we spoke the same language. And, for some reason, even without understanding her words, I felt like I got what she wanted to communicate with me. 
Perhaps it was because of alignment of intentions. Perhaps it was because we allowed each other into our own spaces. Whatever it was, I would always remember that morning when I met this legend of a woman.
What's Apo Whang-od's story?
Apo Whang-od underwent training from their tribe's tattoo master in her teenage years. She trained with a few of her contemporaries to preserve the art of traditional Kalinga tattooing.  All of them initially practiced it.  But, as time went by, one by one, they started to get married and raise a family. And, because of the tragic story of losing her love, it was only Apo Whang-od who pursued mastering the art and went on to become the Oldest Traditional Kalinga Tattooist.
The "only" boy in Apo Whang-od's life
Apo Whang-od also had a boyfriend when she was younger. She was so in love with him but tragedy befell her beloved and he got killed. After that, she did not look for anyone to replace him anymore and just devoted the rest of her life to her craft.
And, it is definitely not because no one pursued her after her boyfriend passed. Apo Whang-od was, in fact, considered as one of the prettiest and smartest in their community (thus, the tattoo on her forehead). There was even one time, after she and her friends went down to Chico River, when three men from Tinglayan followed Apo Whang-od to Buscalan with the intention of courting her. And, yes, you guessed it right – Apo Whang-od dismissed all of them.
Back in 2012, Apo Whang-od shared that she taught her niece, Grace, the art of Traditional Kalinga Tattooing. But, Grace's heart was not on it. This came as a surprise to me. I had thought that anyone from their tribe would consider it a privilege to be chosen by, trained by, and learn from Apo Whang-od and become her successor.  But, I later on found out that the younger generation of Kalinga women did not want to keep the tradition because of the stigma attached to tattooed Kalinga women. Remember, this was in 2012.
There were stories about people from the village treating the tribe differently because of their tattoos.  It was a surprise for me.  Based on tradition, tattoos on Kalinga women signified their tribe considered them beautiful. And, the men who had tattoos were only those who have participated and won a tribal war; thus, making their tattoos a symbol of courage and strength. So, I thought that they would consider it a privilege.  But, upon learning of the stigma attached to it, I got why the younger generation wouldn't want to continue the tradition.  It's sad, though, because this is an art and it's worth preserving.  It's something that they can call their own.
But, times have changed. Apo Whang-od is training her successors. I do hope that her apprentices acquire the knowledge and wisdom of Apo Whang-od and, like their ancestors, may they eventually be pillars for the preservation of their culture and traditions.
Getting inked by the oldest Kalinga tattoo artist
Whang-od, herself, prepared what she used for the tattooing session: a small piece of metal for drawing, charcoal, a thorn, a stick for the thorn to attach, another stick to support embedding the tattoo on the skin, and two stools where she and Tara would be sitting on.
Whang-od, herself, prepared what she used for the tattooing session: a small piece of metal for drawing, charcoal, a thorn, a stick for the thorn to attach, another stick to support embedding the tattoo on the skin, and two stools where she and Tara would be sitting on.
For a moment, I considered getting a tattoo myself, because of how difficult the hike to get to Buscalan was for me.  But, I didn't want it to be a reaction to the circumstance I was in.  So, I chose to pass.  I resolved that I would think about it some more, when my mind's clear.  And, when I do choose to get a tattoo, I'll just do the hike once more.
I imagined, though, that it must be weird for Tara having a thorn poking at her skin in the rhythm of  two sticks beating against each other.  I asked her, "How are you?"  She replied, "I'm good!"  "It's not painful?"  I asked.  "Nope.  Not at all."  Wow.
It was such a privilege being able to witness the practice of this tradition. Apo Whang-od looked like she was in her own world, barely lifting her head to check what's going on around her.  She got teary-eyed several times, maybe from the fatigue that her eyes were experiencing while focusing and being precise in her art.
When I get the chance again, I hope to visit Apo Whang-od once more to finally get inked by The Oldest Mambabatok.
Sending you love and good vibes,
Monica
P.S. Thank YOU! And, in whatever space you are in now, I hope that you got something from reading this post. Talk to you soon!
Updated on March 1, 2021. Originally published on December 27, 2012.